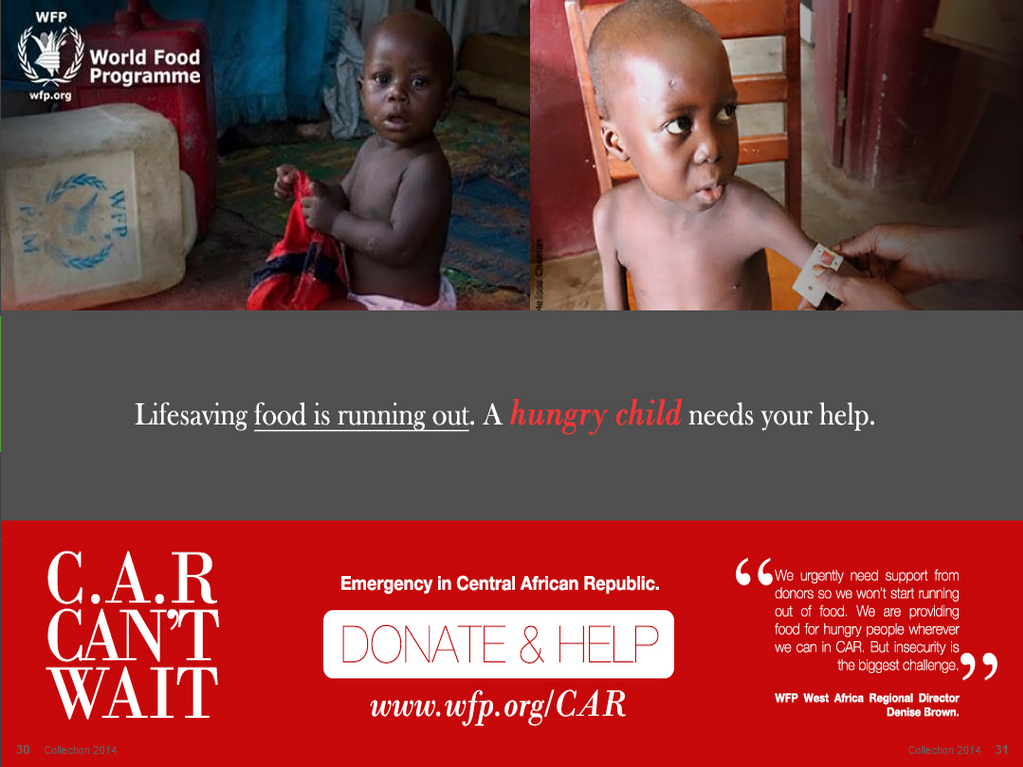 Fighting in C.A.R. is pushing families to the edge of survival, while funding for this crisis has nearly run out. Children will be the first innocent victims.
Without your support, WFP cannot continue providing emergency food assistance.
The Situation in C.A.R.
Before conflict started, half of the children in C.A.R. were stunted due to malnutrition. Now, continuing violence and economic instability are making a bad situation worse.
More than 800,000 people have been forced to flee their homes. Unemployment is widespread. Without emergency food assistance from WFP, parents are unable to feed their children.
Why Give to WFP?
WFP is 100% voluntarily funded, so every donation makes a difference.
In an emergency, WFP is the first on the ground delivering food, and we've been there since the beginning of this crisis.
Despite huge logistical challenges and significant security risks, WFP staff is doing whatever it takes to get food to the most vulnerable in C.A.R., especially young children.
HOW YOU CAN HELP
Here are 3 examples of how your donation will make an impact:
$15 

will give nutritious, lifesaving food to a child for 1 month;

$45 

will feed a child through the lean season (3 months);

$75 

will provide a month's worth of food for a family of 5.
Help a Hungry Child
"We must not wait until pictures of skeletal, severely underweight children document our failure and neglect."