Inject color into your socks and hope into the world of Conscious Step!
Picture this: A pop of vibrant colors swirls around your feet, a tapestry of threads woven together not just with cotton but with purpose. This isn't just another pair of socks; this is a statement of change, a stride towards a better world. Welcome to the universe of Conscious Step.
A Fusion of Comfort and Cause
Conscious Step is not your ordinary sock company. They've engineered the epitome of comfort, using fairtrade, organic cotton to create the "most comfortable socks you'll ever wear." But that's merely scratching the surface. What sets Conscious Step apart is their commitment to global issues that affect us all—from hunger and education to healthcare and environmental sustainability.
More Than Threads—A Web of Impact
When you purchase a pair of Conscious Step socks, you're doing far more than upgrading your sock drawer. You're making a direct contribution to charitable organizations that are on the front lines of global change. Partnerships with Room to Read, water.org, Oxfam, Global Citizen, Malaria No More, UNAIDS, Trees for the Future, and Action Against Hunger are just a few examples of the impactful collaborations that elevate this brand from a sock vendor to a change-maker.
The Minds Behind the Movement
This revolutionary concept comes from a "small but mighty" team of artists, collaborators, and strategists, each of whom wears multiple hats—because transformational work demands extraordinary people. They are the embodiment of creativity, kindness, and relentless passion, united by a singular mission: making a difference with every step.
Be the Ripple in the Pond
Conscious Step is built on a simple but powerful belief: small actions lead to significant changes. You don't need to be a superhero to change the world; you only need to take a conscious step. Their aim is to bridge the gap between you and world-altering nonprofits, streamlining the process of making a meaningful impact on today's most critical causes.
---
So why settle for socks that just cover your feet when you can wear socks that cover essential global causes? Slide into a pair of Conscious Step socks today. Because every step you take in these socks is a step toward a more sustainable and equitable world for everyone. Embrace comfort. Embrace change. Step consciously.
Buy a pair!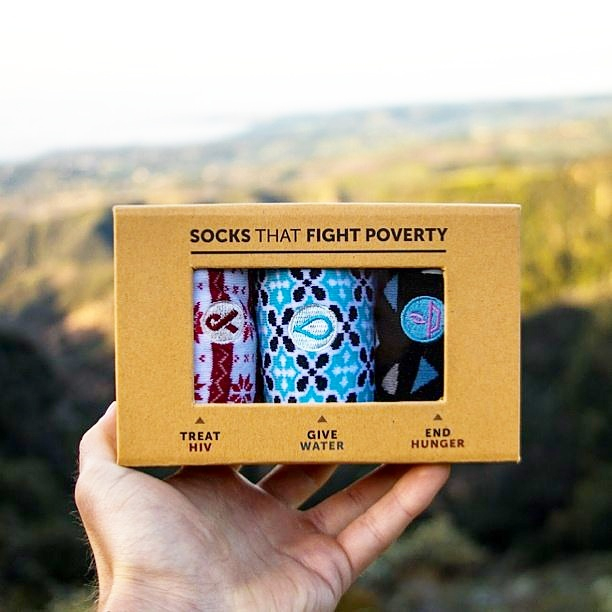 Instagram: @consciousstep 168 thread count, GOTS organic and Fairtrade certified cotton.